FEB
8
Filed Under: Chemical | Viewed by: 2295 Persons
This year, influenced by the European debt crisis and the U.S. economic slowdown , the market analyst all believed that there will be a huge drop in paraffin export. However, statistics from the Customs showed otherwise: the export of pareffin from January to November demonstrate a growth against all odds.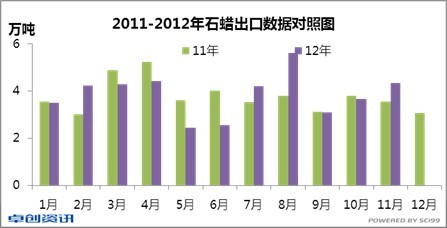 Figure 1:2011 -2012 paraffin export statistics

In November, the domestic paraffin export amounts to 43,200 tons , a monthly increase of 18.03% and an year - on - year increase of 21.86% . Total export stood at 422,800 tons from January to November , representing a cumulative year-on-year increase of 0.57%. Viewing from the perspective of price, there has been a continuous decrease over the past 2 years. Mainstream paraffin model 58 # semi refined paraffin dropped from 10,700 yuan / ton in May 2011 to the current 8,300 yuan / ton, a decline of 22.4%. in particular, some of the refineries in China ( Dalian Petrochemical , Gaoqiao Petrochemical , Maoming Petrochemical ) accept customers' materials for processing, in which case they help to promote the export as the price of these products is far more than those domestic ones.


Candles Exports Witnessed a Sharp Decline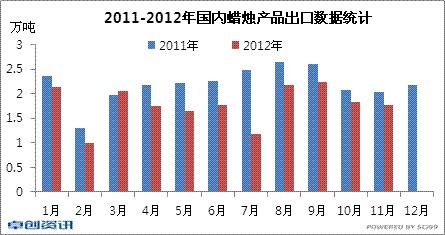 Figure 2:2011-2012 Domestic Candle Products Export Statistics

As can be seen from the chart above, in 2012, the domestic candle products export showed a continuous decline. From January to November 2011, candles export volume amounted to 241,200 tons,however, from January-November 2012, candles exports was only 195,500 tons, a year-on-year decline of 19.04%. At presesnt, as there has been many export restrictions, There is still room for survival for some large artistic taper and candle companies through certification and waiver of the anti-dumping duties. This year, some manufacturers' export also increased to some extent, but some of the small-size enterprises were blocked on the outside of International market due to insufficient qulification, some of which closed down and some of which became original equipment manufacturer for larger companies, as a result, domestic export suffered from an overall decline.

Alternative Products Present Huge Price Advantages

This year, the price of palm oil prices continue to decline, bringing down the price of palm wax along with it. Besides, environmental restrictions stipulate that the a certain amount of plant wax is also required in candles. It is learned that currently vegetable wax accounts for 30-50% of the wax candle content. October is the peak season for production of the domestic candles for civil use, because the price advantage of carnauba wax was as high as over 1000 yuan, it is also highly concerned by manufacturers and therefore formed a huge impact on the paraffin market.

As we can see from the aspects above, in 2012, although the export volumes of the paraffin remained stable, there have been decline of various degree in both the export and domestic need of wax products. Therefore, oversupply of these kinds of products would persist on the domestic market. According to statistics, it is expected that in 2013 paraffin production will increase by more than 30 million tons. if the international situation still shows no sign of improvement, the domestic competition will be further enhanced and the future will remain a grim one.
Related Articles: